IgM and PCR Co-Testing for COVID-19 at PLKv
2022-06-01
PCR Testing
To date, Pathologists Lancet Kenya has conducted over 100,000 tests for COVID-19 since commencing testing onsite in April 2020.
At PLK, we have been conducting SARS-COV-2 testing using the Seegene Allplex® reverse-transcriptase (rt) real-time (RT) polymerase chain reaction (PCR) in line with WHO recommendation that suspected cases should be screened for the virus with nucleic acid amplification tests (NAAT) such as rtRT-PCR.
The WHO recommends that routine conrmation of cases of COVID-19 is based on detection of unique sequences of virus RNA by NAAT such as rtRT-PCR. The viral genes targeted so far include the N, E, S and RdRP genes, whose detection in a sample confirms presence of SARS-CoV-2.
Seegene Allplex 2019-nCoV® RT-PCR Assay has a unique feature that identies 3 different target genes (E, RdRP and N genes) in a single reaction tube which allows for highly accurate results and maximizes the throughput for high volume testing.
The Seegene Allplex® RT-PCR assay is FDA-approved and has been independently evaluated by FIND "Foundation for Innovative New Diagnostics" scoring it at 100% sensitivity and 100% specificity.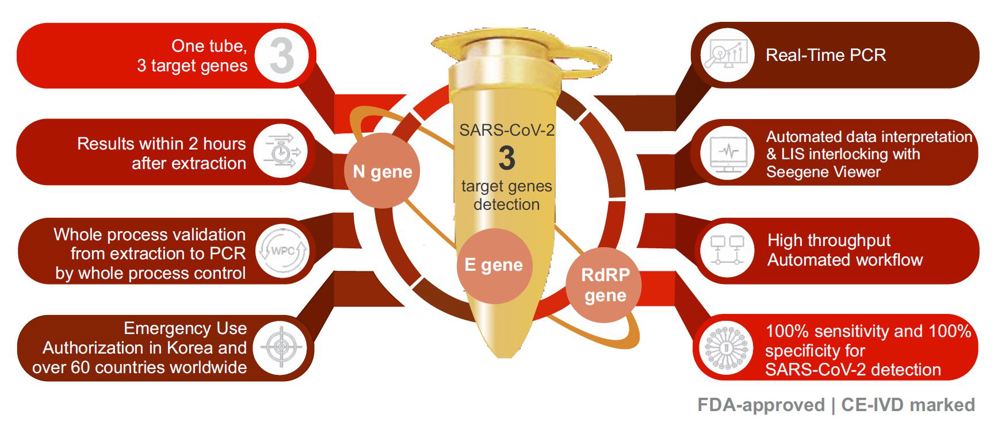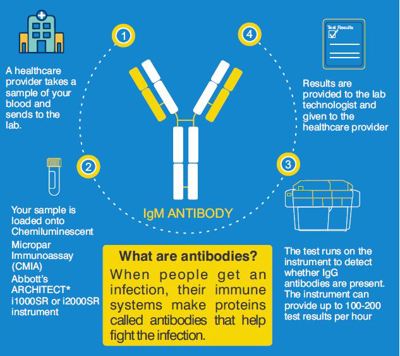 IgM Testing
The SARS-CoV-2 IgM antibody blood test is a chemiluminescent microparticle immunoassay (CMIA) similar to ELISA, designed to detect IgM antibodies to SARSCoV-2 spike protein in the blood from individuals who are suspected to have had COVID-19. Presence of the SARS-COV-2 IgM antibodies allows for identification of recent COVID-19 infection from 1 week to 4 weeks of onset of infection, after which it becomes negative - while IgG antibody test remains positive longer for months as an indicator of past infection.
Results from the SARS-CoV-2 IgM assay should not be used as the sole basis for diagnosis.
When combined with the SARS-COV-2 PCR test it provides >99% sensitivity for diagnosis of recent COVID-19.