Home
News
In the News
Improving access to quality lab tests among private health care providers in Kenya
Improving access to quality lab tests among private health care providers in Kenya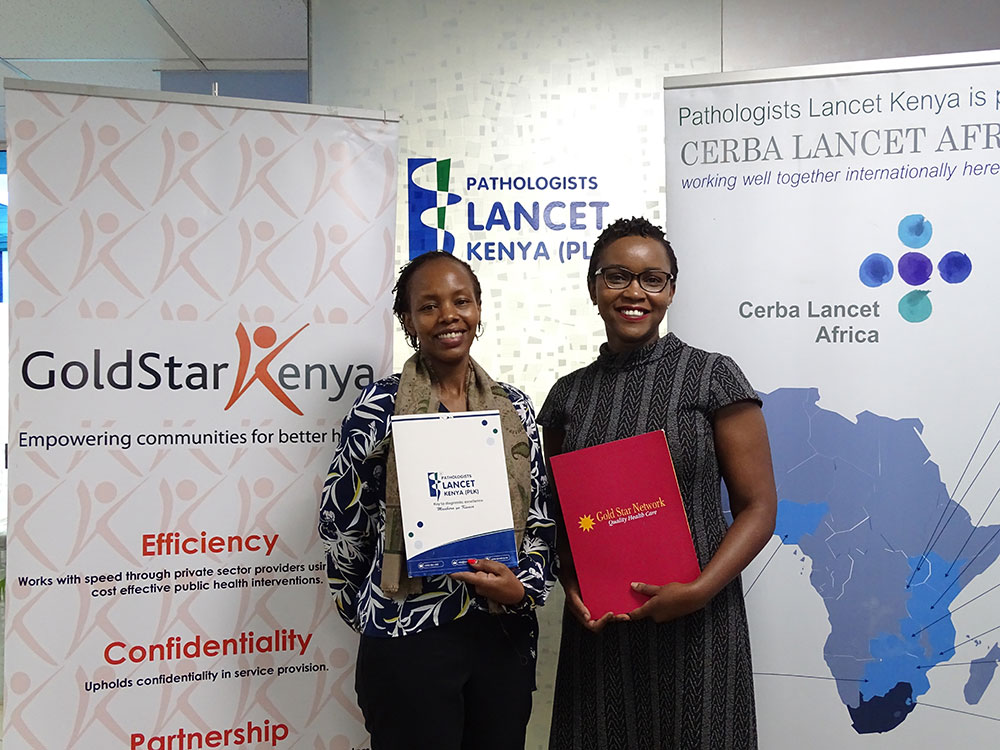 Gold Star Kenya and Pathologists Lancet Kenya have entered into a strategic partnership that will see over 100 private health facilities linked to Pathologists Lancet Kenya from all over the country. The facilities under Gold Star Kenya Network franchise will benefit from quality assured and affordable lab tests provided by Pathologists Lancet Kenya.  
Speaking on behalf of Pathologists Lancet Kenya, Managing Director and CEO Mwende Musunga said, "One of our key objectives is to increase quality diagnostic care to patients through strategic partnerships, and being part of this healthcare network will ensure patients live healthy lives. We are delighted that with this partnership, we will be able to achieve our goal by increasing accessibility to quality diagnosis to a wider pool of patients."
In the past, Gold Star Kenya and Pathologists Lancet Kenya have worked together to improve HIV services through quality assured and subsidized HIV testing services including HIV treatment to reduce viral load to undetectable levels.
 "We are excited about this partnership and for us, at Gold Star Kenya, multi-sectoral and multi-disciplinary collaboration is the future solution to gaining ground in private health sector quality service delivery. Our widespread Gold Star private sector network of health facilities and medical practitioners and most importantly – the patients (our primary beneficiaries) will now be able to access high-quality and affordable lab tests from a globally reputable and accredited firm, Pathologists Lancet Kenya," said Dr. Nyawira Gitahi, Executive Director, Gold Star Kenya.  
The private sector in the past has not had adequate support to address the challenges of quality, high cost of lab tests, infrastructure, and sample referral networking. Over the past year, there has been reduced funding in the supply chain which has resulted in many patients in both public and private facilities not being able to access viral tests as prescribed in policy guidelines. 
Dr. Charles Wahome, Chief Pathologist at Pathologists Lancet Kenya said, "In today's world, we have innovative ways of testing for diseases such as HIV/AIDS. The availability of resources, and expertise have enabled us to advance our offering in different diagnosis and also venture into this partnership. We strongly believe in offering patients quality tests to improve their health. We hope that with this partnership, we will continue to do so with the added pool of patients to our portfolio."
 This collaboration will improve access to ISO 15189 accredited laboratory services covering HIV related tests (Viral Load), Antenatal care profile, among many other tests. This will positively impact the quality of diagnosis and access to safe health care services in the private sector. 
Gold Star Kenya is a leading local Kenyan NGO implementing quality sustainable community health and development programs that cover reproductive, maternal, child, and adolescent health; HIV/TB, NCD, and nutrition. 
About Pathologists Lancet Kenya
Pathologists Lancet Kenya Ltd is a leading pathology and laboratory medicine service provider in Kenya with subsidiaries in Uganda, Tanzania and Rwanda. Pathologists Lancet Kenya provides vital diagnostic, monitoring, and screening testing from routine, to specialized and even esoteric tests across East Africa region.
Pathologists Lancet Kenya operates ethically, efficiently, and effectively, striving to continually improve its services by remaining at the cutting edge of technology while adhering to international criteria set out according to ISO Standard 15189. Regional referral and key hub laboratories in East Africa are all SANAS, KENAS or SADCAS accredited.
Pathologists Lancet Kenya is part of Cerba Lancet Africa, a leading network of clinical pathology and medical diagnosis in Africa, with the ambition to become the leading diagnostic services provider in Africa, bringing world-class standards of pathology services to patients and medical communities across the continent. Cerba Lancet Africa operated a network of 170+ laboratories across Kenya, Uganda, Tanzania, Uganda, Rwanda, Botswana, Gabon, Ghana, Mozambique, Nigeria, Swaziland, Zambia and Zimbabwe.
For further media queries kindly contact us via  communications@lancet.co.ke 
About Gold Star Kenya
Gold Star Kenya is a Non-Profit, local Non-Governmental Health Organization that focuses on empowering communities for better health and drawing its expertise from being involved in various projects in Kenya and collaborating with diverse public and private sector partners.
Gold Star Kenya aims at improving health outcomes of the communities as well as being positioned as an institution that stands for quality and results-driven interventions. It has achieved this primarily through its flagship social franchise health programs.
It was established and registered in Kenya in 2010 as a Non-Profit Health Organization and has its roots in the Gold Star Network (GSN), a social franchise initiative established in 2006 by Family Health International (FHI 360) to promote comprehensive HIV care and treatment through a Network of Private Healthcare Providers in Kenya. It leveraged on the capacities established through the implementation of the public sector HIV prevention, care, treatment, and support programs funded by the United States Agency for International Development (USAID), GSN sought to expand access to quality services through innovative public-private partnerships.
Gold Star Kenya has continued to implement programs with support from the United States Agency for International Development (USAID), Safaricom Foundation, Triggerise, and in collaboration with the Government of Kenya and diverse partners that include Family Health International (FHI 360), PS Kenya, Toto Health and the various service providers that form the membership of the Gold Star Network.
GS Kenya's current health programs target strengthening the healthcare systems, high quality integrated HIV/TB prevention, care, treatment, and management of priority health conditions that include Comprehensive Reproductive Health, for mothers, children, adolescents, and young women, economic empowerment activities, nutrition services as well as malaria management and addressing the growing burden of Diabetes and other non-communicable diseases. 
 This is done through the delivery of comprehensive health service interventions to key populations, and strengthening public-private partnerships for improved community linkages to products and services.
See more Latest News items